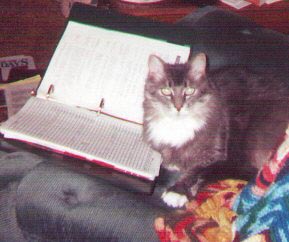 Where There's A Will - Fluffy's Story
Even those who knew Fluffy during her formative years as the daughter of a warm and loving but feral and uneducated kitty in Escanaba, Michigan knew she was destined for great things. While her brothers and sisters hung from the drapes and chased flies and spiders, Fluffy would be found browsing the bookcases, reading the paper, watching educational television and teaching herself to type, even then preparing herself for a remarkable future for any cat, let alone one from her humble beginnings.
While many cats never even graduate high school, Fluffy was valedictorian and also worked many part time jobs in order to complete her undergraduate studies at Peppurrdine University where she received her bachelors degree in the Felinities. A lesser cat would have been content to stop there, but not Fluffy. Before long she was the youngest cat ever to receive a masters degree in Kitty Litterature from Purrdue, and then one in Animal Psychology, later doing an internship at the Meow Mental Health Clinic. Subsequently, she hosted her first radio program giving advice to forlorn feline listeners of station KATS in Walla Walla, Washington. During a brief sabbatical from public life, Fluffy traveled to Katmandu to study under the famous Yogi Meowja, and soon became a Zen Master in her own right. Never one to rest on her haunches, Fluffy then began work on her doctoral thesis, "Interspecies Relational Dynamics," later to become the basis for her first book "Nine Stupid Things Cats Do To Mess Up Their Lives" for which she received a Purrlitzer.
Her fame has spread quickly. Fluffy is now a familiar face on the talk show circuit, making numerous appearances on Opurrh, Grrraldo, Salli Fluffi Rafael, Meowy Povitch, and even Jerry Springer Spaniel.
Ever self-effacing, few know that Fluffy is fluent in Latin, Portuguese, Canine, Marmot and Avian. She was also once featured on the cover of Catsmopolitan, where she was seen by Morris the Cat whose heart she broke when she ended their long relationship to wed Claws Furrbal, who won critical acclaim for his transgender peformance as Sassy's stunt double in the Disney film "Homeward Bound."
Now widowed, Fluffy lives with two human companions and one infernally stupid dog in the Spokane Valley in Eastern Washington.
Give me a break! Take me back to the Index!